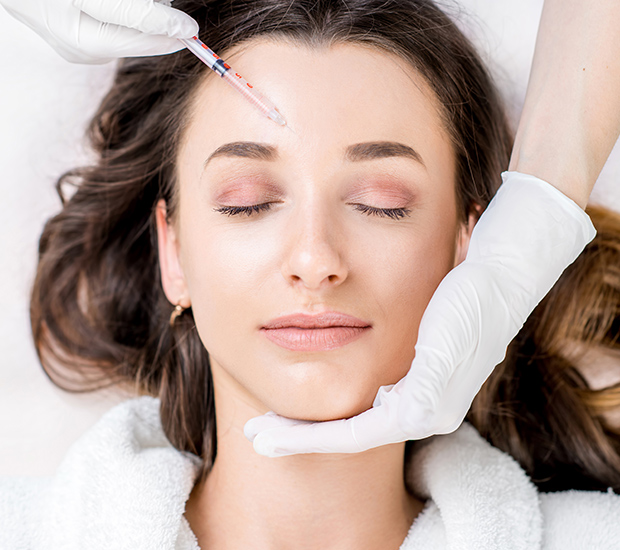 Botox® and Dermal/Lip Fillers
Babylon Smiles is proud to announce that we now offer Botox® for TMJ treatment and wrinkle reduction, as well as dermal/lip fillers!
Botox is a popular wrinkle relaxer. This injectable treatment is made from a filtered strain of type "A" botulinum toxin that temporarily freezes the movements of targeted muscles in your face.
Botox® can also help treat:
In addition to smoothing wrinkles, Botox can also be used for TMJ treatment, a common dental problem, as an alternative to medication or surgery. The injections can reduce the intensity of muscle contractions or prevent them entirely, providing relief from jaw-clenching and teeth-grinding.
Dermal/lip filler can be used to correct moderate to severe facial wrinkles and folds and age-related volume loss in the lips or chin. This clear gel is injected with an ultra-fine needle to temporarily smooth the appearance of lines and tighten the skin around the mouth. It can also be injected directly into the lips to plump and provide a more youthful appearance.
Contact us to schedule an appointment for either of these services or read on to learn more!
Botox®
Botox® for Wrinkle Reduction
Wrinkles can alter one's appearance to create a more tired, worn down, or even angry look. Fortunately, we can help to manage these effects using Botox. These skin creases happen to everyone as the result of regular facial expressions and muscle movement. Even though wrinkles are bound to form in one's life, we can help provide treatment to relieve them.
Botox is a brand of protein-based chemical fluid that we deliver into a patient's facial muscles to smooth wrinkles and prevent future ones from forming. This fluid limits the contraction and movement of facial muscles, which causes wrinkles, in actions such as laughing, frowning, and squinting.
Botox® for TMJ Treatment
Beyond its use for wrinkle reduction, Botox can be used in the treatment of symptoms of temporomandibular joint (TMJ) disorders.
These symptoms can include:
Jaw pain
Difficulty in biting down or chewing
Pilling or clicking when opening or closing the jaw
Headaches
Some forms of TMJ disorders involve tightness or spasms in the muscles that move the joints of the jaw, which Botox can be used to address. As a neuromodulator, Botox can block nerve signals from the brain to the muscles responsible for chronic TMJ problems, allowing them to relax and alleviate the symptoms of TMJ disorders.
Check out what others are saying about our Botox and restoration services on Yelp: Botox Babylon
Is Botox Right for You?
Whether you're concerned about wrinkles or are suffering from pain caused by TMJ, Botox may be the solution for you. Part of the reason people prefer Botox is that it starts working immediately and takes full effect after about a month. Depending on which part of the face we treat, Botox may need to be re-injected every three to six months.
We can help determine if this treatment is a good fit for your needs, so call our office and schedule an appointment today.
The Initial Consultation
During the initial consultation, we will conduct an assessment of the patient's current health and medical history to determine if the patient is a candidate for treatment with Botox. We will also go over the cost, payment, and other factors during a consultation, and you will be able to voice your questions or concerns about Botox so that you make an informed decision.
During the consultation, patients need to mention if they have any of the following conditions:
A pre-existing skin condition
Any allergies
A fear of needles
Any current medical treatment plans
For wrinkle treatments, we will go over the patient's desires for enhancing their skin and the number of appointments they will need during their consultation, and create a treatment plan around that. If the patient is receiving any other type of treatment for a condition, then we need to know. This way, we can ensure both treatments do not interfere with each other.
The Botox Procedure
A Botox injection usually takes about 15 minutes, depending on how many units (injections) the patient is receiving. We will use a superfine needle to inject the Botox into the specific area of the face the patient wants to enhance. This procedure may cause mild soreness during and after the procedure. However, the soreness will fade fairly quickly while the Botox continues to take effect.
Botox is an outpatient procedure, so patients will be able to return home immediately after. In most cases, Botox will need multiple sessions to have a noticeable effect on the patient's appearance.
Make the Changes You Desire
The effects of Botox can be noticeable in as little as two days after the initial injection. The full effect takes approximately two weeks, smoothing out unwanted wrinkles. There will also be some limited movement in the face muscles. While the changes in appearance tend to last three to six months, this can vary per person.
If it is the patient's first time getting Botox, they may want to take a picture of the injection area two days after the appointment and again two weeks later to document the difference.
Recovery and Aftercare
Side effects of Botox are minor. There is little to no recovery time since it is an outpatient procedure. Patients can receive a Botox injection and leave directly after the appointment, carrying on as usual. It is essential to keep an eye on the injection site. If the patient has a severe skin reaction, give us a call right away for instructions on how to proceed.
Botox is designed to be non-disruptive to a person's daily routine and should not require much aftercare.
Consider Botox Treatments Today
It is always important to make an informed decision before having any procedure. Call us at (631) 773-1094 to schedule an appointment at our office if you are interested in receiving Botox treatments.
If you live in the Babylon area, call 631-773-1094 to schedule your dental exam so that you can remain in good health or receive treatment for a current condition.
Dermal/Lip Fillers
A more youthful appearance with lip and dermal fillers
Dermal fillers can make a person appear more youthful, and they cost a lot less than a traditional facelift. Fillers can be used to address a variety of cosmetic issues like wrinkles, lines, and hollows. The results can last for over a year. A filler can be used to relax the muscles underneath a wrinkle or fill up a crease/line in the patient's skin. When it is applied to the area that needs work, it makes aging skin less noticeable and leaves the person looking younger.
Additionally, dermal fillers can be used to improve the appearance of lips, adding additional volume to provide plumper, fuller lips.
What To Expect When Getting Dermal Filler
Getting dermal fillers is a straightforward process, and there is little or no recovery time required afterward. The site of the injection will typically be numbed first, after which the filler is injected into the problematic area. The entire procedure usually takes less than an hour.
The patient might experience some soreness for a couple of days, but that quickly goes away. The area that was worked on will feel like it normally does within a few days. With fillers, the patient gets instant results.
In the case of lip fillers, the patient will usually be advised to stay away from lip products like lipstick until their lips have healed from the treatment.
Find out more about our dermal filler services and about how we can help you get your youthful look back by getting in touch with our office at (631) 773-1094.
Definition of Cosmetic Dentistry Terminology
Anterior Tooth Display

An anterior tooth display refers to the anterior teeth, incisors and canine teeth, at the front of the mouth.

Botulinum Toxin

Botulinum toxin is a common component of Botox that medical professionals use to tighten a patient's face.

Dentist

A dentist, also known as a dental surgeon, is a doctor who specializes in the diagnosis, prevention, and treatment of diseases and conditions of the oral cavity.

Esthetics

Esthetics involves focusing on the overall appearance of someone's teeth and facial features. This term especially applies to cosmetic dentistry.

Gingival Display

A gingival display is when there is an excess amount of gums in someone's smile and the individual prefers to change that.
Back to top of Botox
Recent Posts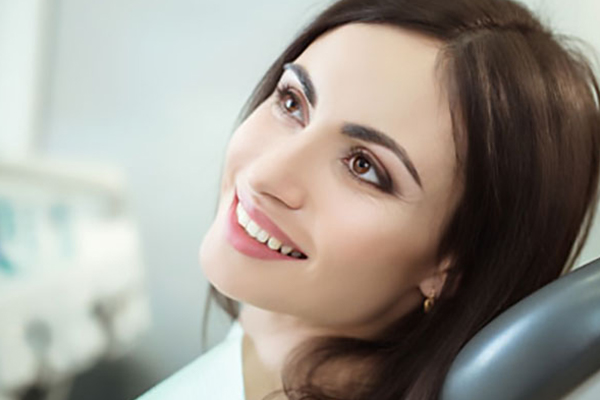 Cosmetic dentistry procedures can help enhance your smile. Technological advancements in the dental industry have led to procedures that can improve the look of teeth, gums, and overall smile. Whether your desired cosmetic improvement is simple or more complicated, a cosmetic dentistry procedure is available for your needs. Here is a look at some of…
Explore additional topics covered on our website: